1970 Plymouth 'Cuda Hemi 2-dr hard top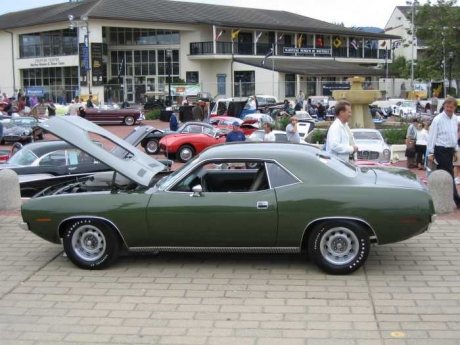 Basic Information
Car Details:1970 Plymouth 'Cuda Hemi 2-dr hard top
Sale Details:Premium Only
Auction:RM Auctions, Monterey Sports and Classic Car Auction on August 19th, 2005
Lot #:Premium Only
ACC #:39153
Condition Description
426-ci V8, 2x4-bbl, auto. Two owner, unmolested Hemi with its original broadcast sheet. Long list of options, including shaker hood, rally instrument cluster, AM/FM with 8 track, and fog lights. Paint in original condition, with a few minor scratches. Engine is clean but not detailed.
Market Opinion
For our expert analysis of this vehicle, and over 40,000 more, please sign up for ACC Premium Database Access.
Vehicle Information
Chassis/VIN #:BS23ROB146563
Engine Type:V8
Transmission:3 Spd Automatic
Displacement:426 ci
Induction:2x4-bbl
Odometer:16,291
Condition:N/A
Body Style:2-dr hard top
Features
Wheels:Factory Alloys
Seats:Bucket
Exterior:Ivy Green Metalic
Interior:green vinyl
Condition Rating Key
1: National concours standard/perfect
2: Very good, club concours, some small flaws
3: Average daily driver in decent condition
4: Still a driver but with some apparent flaws
5: A nasty beast that runs but has many problems
6: Good only for parts
Is there an issue with this auction record? Click here to let us know.